녹스 앱플레이어로 Deer Hunter 플레이하기
더보기
업데이트 날짜 :  2021-07-16
현재 버전 :  2.2
This deer hunter 3d game will be the most exotic shooting game and you have ever seen on your mobile phone. After playing this deer hunting simulation game you will become a real hunter. The 2022 hunting season is in full swing! Dust off your gun, travel to hunting locations, and observe animals in their natural habitat. Ready to hunt? Let's play Deer hunter 3d an advanced hunting simulator & shooting game!

In this deer hunter game, you need anywhere you're used to shooting, wilderness, plains, snowfields, and other places you can't imagine.

Aim and shoot at the Right Time:

A deer hunter needs to have patience and precision to maintain their target on a wild deer, which has strong senses and is always on its toes. The scenario in this deer hunting game presents wild deer out in the forest. A slight misplacement of the aim can not only cause you to miss the target but also alert the animal and cause it to run away. So be careful!

Adventure Hunting simulator:

Deer Hunting 3D – Sniper Shooting provides a setup in which you are given the opportunity to aim and hunt as many animals as you can besides the deer too. There are various situations you will find yourself in which will not only consist of opportunities to become a hunting master but also place hurdles in your path.

Become a Pro Hunting Master:

A deer shooter has sharp eyesight which enables him to target wild animals with the sniper attached to the weapon. Besides the aiming and shooting skills, a deer hunter should also be capable of predicting the actions of the deer. By using your skills you will always be one step ahead of the game. You will only be able to move on to the next level if you have achieved the target. The more animals you kill the higher will be the score you achieve and you might also end up earning awards or other gifts.


Realistic hunting locations::
Multiple environments have been designed to give you an actual feel of a horrifying jungle to snowy mountains in this deer hunter game. Under these extreme conditions, Deer hunting will become tactical. You have to aim precisely. One bad shot and the deer will vanish right in front of your eyes. Because deer have amazing senses.
Deer Hunting simulator is not only about being a good sniper. To become a master of gun games and sniper games you have to pay attention to your surroundings. Otherwise, you may not have a chance to shoot with your gun at all! Travel across Australia, Burma, Norway, Poland, and many more! Not all sniper games or hunting games can encourage hunters with such a variety of amazing hunting places. So grab your guns and prepare for a great sniper games adventure!
Once you play this game you will be addicted. In this deer simulator game, you have a scary jungle is here in this game in which deer and other wild animals are wondering, you have to find them and hunt them.
A variety of firearms
Different fantastic guns are available for you which have long shooting ranges in this deer hunter game you have to select any gun according to your own choice and perform deer hunting. It is too much adventurous, thrilling and risky game.
Features::


❖ Various animal types and Animal Illustrations
❖ This deer hunting game is more convenient for your hunting with five different rifles
❖ Different scenes and seasons are available in deer hunting game
❖ Unique animal design, it will decide whether to run away or attack you when disturbed by you.
❖ High-quality graphics in deer hunter offline game
❖ The marvelous 3D environment in deer hunter game
❖ Realistic animated deers to hunt in deer hunter game
❖ Realistic sound effects are available in deer hunter offline.
❖ Full 3D - 360 Degrees Action in deer hunter game


This simulator lets you improve your aiming and shooting skills like a pro! This is a real test of your
sniper deer shooting skills. You have to be very precise! Take it as a challenge and try to clear all levels.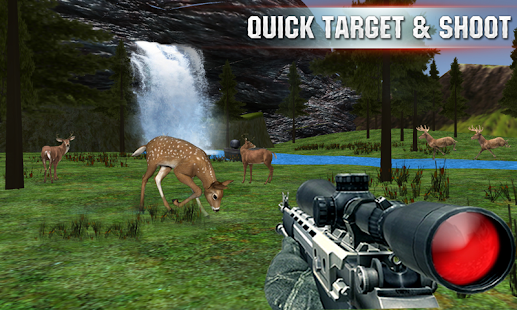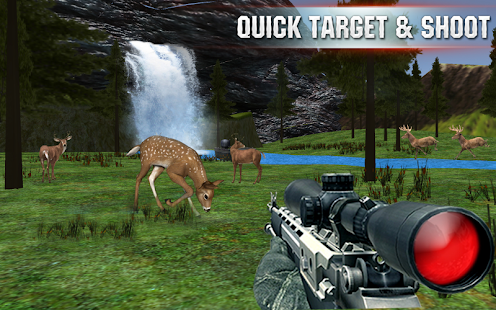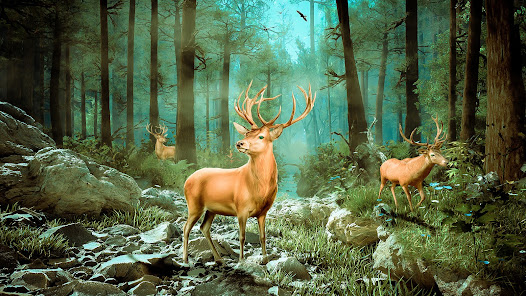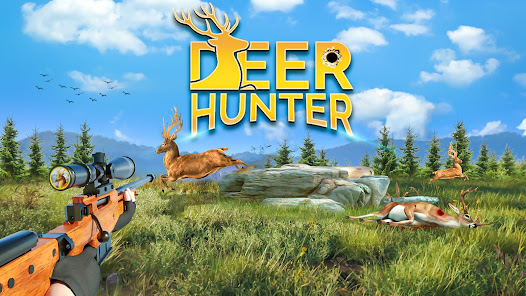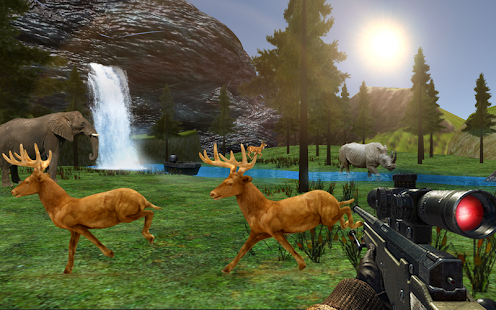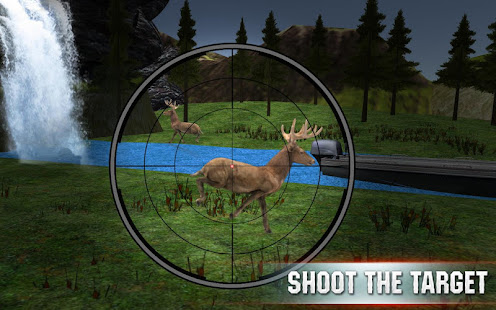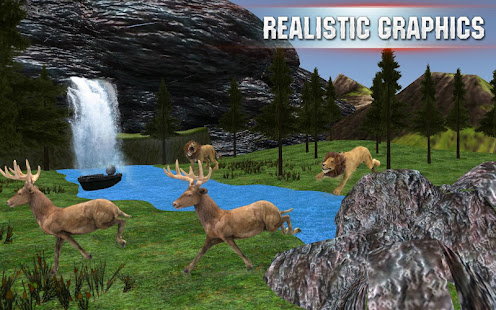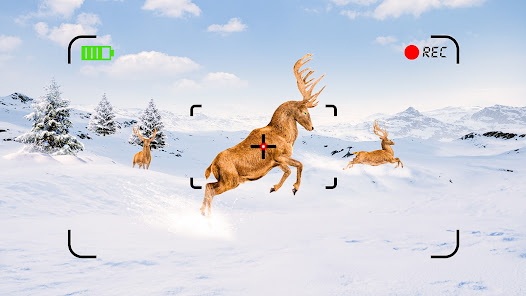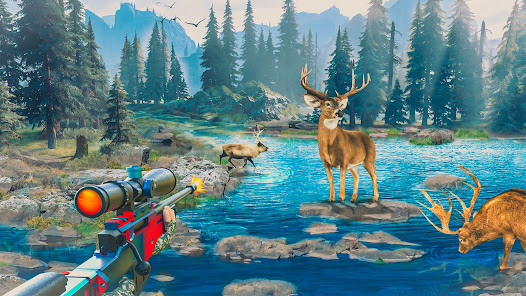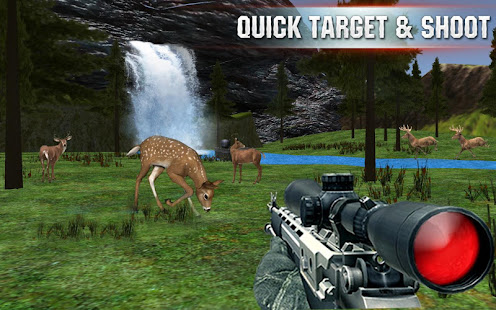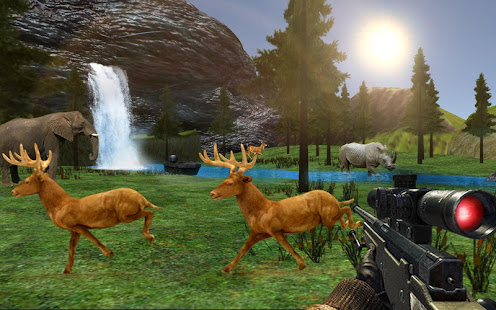 녹스를 사용해 나만의 플레이 방식을 만들 수 있습니다.
녹스 앱플레이어로Deer HunterPC버전 즐기는 방법
1녹스 앱플레이어를 다운 받기

2녹스 앱플레이어를 설치하기

3검색창에 Deer Hunter 검색하기

4녹스 스토어에서 게임 설치하기

5설치 완료 후 게임 실행하기

6PC에서 큰 스크린으로 발열 현상 없이 Deer Hunter 즐겨 보세요!
빠른 설치
방법 1. "PC버전 다운로드"를 클릭하여 녹스 앱플레이어와 게임 APK 파일을 한 번에 다운로드할 수 있습니다. 다운로드한 후 앱플레이어 가동이 가능합니다.
방법 2. 녹스 앱플레이어가 이미 설치된 경우는, "APK 다운로드" 클릭하여 파일을 다운로드 후에 해당 파일을 앱플레이어에 드래그하시면 자동 설치 가능합니다.
Deer Hunter 녹스 플레이 영상
Deer Hunter, 아직도 핸드폰으로 Deer Hunter 플레이하고 계시나요? 녹스 앱플레이어로 Deer Hunter 플레이하면 더 큰 스크린으로 게임을 체험할 수 있으며 키보드, 마우스를 이용해 더 완벽하게 게임을 컨트롤할 수 있습니다. PC로 녹스에서 Deer Hunter 게임 다운로드 및 설치하고 핸드폰 배터리 용량을 인한 발열현상을 걱정 안하셔도 되니까 매우 편할 겁니다.
최신버전의 녹스 앱플레이어에서는 호환성과 안전성이 완벽한 안드로이드 7버전을 지원되며 완벽한 게임 플레이 만나게 될 겁니다. 게임 유저의 입장에서 설정된 맞춤형 가상키 세팅을 통해서 마침 PC 게임 플레이하고 있는 것처럼 모바일 게임을 플레이하게 될 겁니다.
녹스 앱플레이어에서 멀티 플레이도 지원 가능합니다. 여러 앱과 게임 동시에 실행 가능하며 많은 즐거움을 동시에 누릴 수 있습니다. 녹스는 최강의 안드로이드 모바일 에뮬레이터로써 AMD, Intel 기기와 완벽한 호환성을 가지고 있기에 부드럽고 가벼운 녹스에서 최상의 게임 체험 만나볼수 있을 겁니다. 녹스 앱플레이어, PC에서 즐기는 모바일 라이프! 지금 바로 다운로드하세요!
녹스 앱플레이어는 윈도우와 맥 PC에서 실행할 수 있습니다. 컴퓨터로 홈페이지를 방문해 녹스 앱플레이어를 다운로드하세요.