녹스 앱플레이어로 Sushi Roll 3D - Cooking ASMR Game 플레이하기
더보기
업데이트 날짜 :  2020-12-17
현재 버전 :  1.0.28
Slice, chop, and roll your way to sushi success in this satisfying cooking game. The more sushi you roll, the happier your customers will be and the more money your restaurant will make!

NOW YOU'RE COOKING!

Sharpen your knife skills on all sorts of Japanese dishes. But the cooking fun doesn't stop there! You can keep unlocking new actions as you advance to add tons of captivating new minigames to your gameplay experience.

Satisfy customers by making quality food fast with a variety of fixings, and watch them react with lots of likes and a big cash tip — or anger at poorly made food . When making sushi, be sure to pick up the right ingredients and avoid obstacles to deliver the most delicious meals. Be careful: no guest wants too much seaweed and too little fish — or worse, thumbtacks and moldy cheese in their sushi!

SUSHI AND CHILL

As you slash through fun levels in the game, you'll cut through your worries in real life! Feast your eyes and ears on antistress ASMR vibes while you work your way to master sushi chef. With its charming graphics and optional vibration, this relaxing game will have you dreaming of sushi!

GAME FEATURES:

★ Beat increasingly challenging levels to earn more cash and unlock new fillings and toppings. This cooking and restaurant management game is sure to keep you coming back for seconds!

★ Level up your sushi skills to earn better Surprise Box rewards , including new ingredients, cutting tools, and actions. You can also earn more skins to customize your gameplay!

★ Roll and chop sushi, scale and slice fish, grate cheese, make rice, weigh out noodles in takeout boxes, and more in different minigames that never get old.

★ Work with the classic ingredients of fish, rice, and seaweed, and earn special toppings as you progress, including chili peppers, durian fruit, and caviar. Combine your options to make different types of dishes, including maki, sashimi, nigiri, noodles, and more.

★ Upgrade your restaurant with new furniture, dishware, decorations, and accessories to increase your revenue per minute. The more levels you complete, the more options you'll have for chopping: why slice with a plain old knife when you could hack with an ax or gnaw with a chainsaw?

★ Test your skills in entertaining bonus levels with wild and unexpected ingredients. Roll out the red carpet for VIP guests by making sushi and other dishes with fun objects like cash, gold, bling, gadgets, computer chips, honeycomb and more. Don't forget to top it off with diamonds and rubies!

★ Relax and enjoy this ASMR game with antistress sounds, visuals, and tasty virtual treats. Who knew sushi could be so soothing?

★ Check out the ingame store to buy special bonuses and upgrades.

★ The userfriendly and easytolearn interface makes it easy to jump in and get rolling.

What other game can serve you tasty sushi, engaging and satisfying gameplay, a chill ASMR atmosphere, and the opportunity to run your own restaurant? Once you find yourself on a roll, you won't be able to put this game down!

Well, what are you waiting for? Step up to the cutting board and start cooking! Chopchop!

Download the game now and get your sushi on!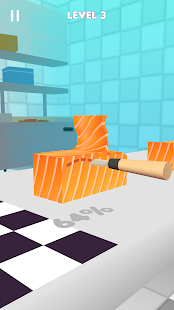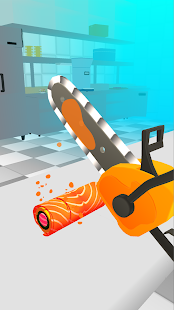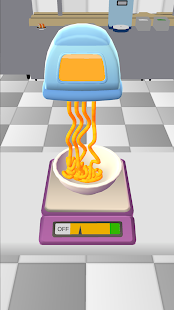 녹스를 사용해 나만의 플레이 방식을 만들 수 있습니다.
녹스 앱플레이어로Sushi Roll 3D - Cooking ASMR GamePC버전 즐기는 방법
1녹스 앱플레이어를 다운 받기

2녹스 앱플레이어를 설치하기

3검색창에 Sushi Roll 3D - Cooking ASMR Game 검색하기

4녹스 스토어에서 게임 설치하기

5설치 완료 후 게임 실행하기

6PC에서 큰 스크린으로 발열 현상 없이 Sushi Roll 3D - Cooking ASMR Game 즐겨 보세요!
빠른 설치
방법 1. "PC버전 다운로드"를 클릭하여 녹스 앱플레이어와 게임 APK 파일을 한 번에 다운로드할 수 있습니다. 다운로드한 후 앱플레이어 가동이 가능합니다.
방법 2. 녹스 앱플레이어가 이미 설치된 경우는, "APK 다운로드" 클릭하여 파일을 다운로드 후에 해당 파일을 앱플레이어에 드래그하시면 자동 설치 가능합니다.
Sushi Roll 3D - Cooking ASMR Game 녹스 플레이 영상
Sushi Roll 3D - Cooking ASMR Game, 아직도 핸드폰으로 Sushi Roll 3D - Cooking ASMR Game 플레이하고 계시나요? 녹스 앱플레이어로 Sushi Roll 3D - Cooking ASMR Game 플레이하면 더 큰 스크린으로 게임을 체험할 수 있으며 키보드, 마우스를 이용해 더 완벽하게 게임을 컨트롤할 수 있습니다. PC로 녹스에서 Sushi Roll 3D - Cooking ASMR Game 게임 다운로드 및 설치하고 핸드폰 배터리 용량을 인한 발열현상을 걱정 안하셔도 되니까 매우 편할 겁니다.
최신버전의 녹스 앱플레이어에서는 호환성과 안전성이 완벽한 안드로이드 7버전을 지원되며 완벽한 게임 플레이 만나게 될 겁니다. 게임 유저의 입장에서 설정된 맞춤형 가상키 세팅을 통해서 마침 PC 게임 플레이하고 있는 것처럼 모바일 게임을 플레이하게 될 겁니다.
녹스 앱플레이어에서 멀티 플레이도 지원 가능합니다. 여러 앱과 게임 동시에 실행 가능하며 많은 즐거움을 동시에 누릴 수 있습니다. 녹스는 최강의 안드로이드 모바일 에뮬레이터로써 AMD, Intel 기기와 완벽한 호환성을 가지고 있기에 부드럽고 가벼운 녹스에서 최상의 게임 체험 만나볼수 있을 겁니다. 녹스 앱플레이어, PC에서 즐기는 모바일 라이프! 지금 바로 다운로드하세요!
녹스 앱플레이어는 윈도우와 맥 PC에서 실행할 수 있습니다. 컴퓨터로 홈페이지를 방문해 녹스 앱플레이어를 다운로드하세요.